CWI in the USA: our visit to the client SLB in Houston
CWI in the USA: our visit to the client SLB in Houston
• 3 min. de leitura
---
At the beginning of September, two of our Systems Managers, Daniel Assis da Silva and Eduardo Flesch Precht, were in Houston, in the United States, to visit Schlumberger, a partner of ours and one of the leaders in its sector.
Our partnership started in 2014. Since then, we have visited them annually to strengthen the relationship. This time, the goal was also to better understand the strategies adopted by the client. Based on this, we seek to optimize our approach, maintaining our commitment to a high technical level of service and expanding our operations on other fronts.
Over the years, we have built a solid relationship with the SLB, delivering exceptional results daily. Two of the best things about us are our agility and technical excellence, which allow us to provide quality with great cost-benefit.
SLB's receptivity
According to Precht, expectations were met. "We were well prepared for the trip, everyone was aware of the visit and made space in their schedules to talk to us. We were well received, and everything went smoothly. It is clear that there is significant cultural diversity at Schlumberger, as we interact with people from different backgrounds, including Vietnamese, Pakistanis, Indians, and other Brazilians. Each person received us according to the hospitality practices of their own culture and they were all cordial," he says.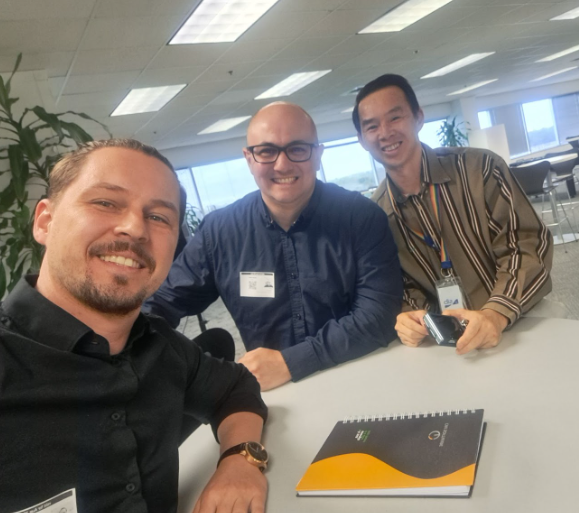 The Systems Manager highlights that in addition to completing all planned schedules, it was also possible to include two meetings that were not originally scheduled.
Cultural experiences
When comparing business culture in Brazil and the US, Precht highlights we need to be aware of some details that can make a difference, because we are geographically distant from the client. In addition to the cultural issue already mentioned, topics such as time zone and language are relevant to SLB.
Language, by the way, is an ever-present topic when it comes to Latin countries. There is always curiosity about scalable teams with individuals fluent in the language to ensure this does not negatively affect delivery. They recognize that, in a way, studying English is not as common in our country as in others. And although they don't see this as a barrier, it is something to pay attention to.
When it comes to the work environment, the offices are quite similar to ours. The areas are equipped to accommodate employees but, like us, the majority of SLB teams started to work remotely during the pandemic, and now they are going to the office in person around three times a week.
SLB and CWI's business
Regarding our relationship with SLB and new business development, Precht explains that understanding SLB's strategy is important to define how we will position ourselves in the coming years. According to the manager, SLB sees us as a "boutique" company, with a differentiated level of quality. "That's why they highlight the importance of choosing a specific niche to focus our efforts on, whether it is related to mobile, user experience, or another line of service that we can add value to."
Next steps
CWI is committed to supporting SLB on its journey of growth and continuous evolution both in the area of software engineering and in specific projects in partnership with the marketing team. We want to lead our technological capabilities even further to ensure we keep delivering exceptional solutions and meet the client's expectations.
Find out how we can help boost your company: send us a message, and we'll contact you right away!
Gostou?